More than a decade since those famous "Mac vs. PC" commercials, the competition between Apple and - well, everyone else - continues. Smartphones are in nearly every pocket and AI assistants are navigating and communicating for us, so the new battle is "Apple vs. Android." While some swear allegiance to iPhones and Siri, others use Android devices with operating systems and assistants by Google or Microsoft. Unfortunately, automakers still tend to pick sides too, offering in-car infotainment and navigation systems that require either Apple or Android devices.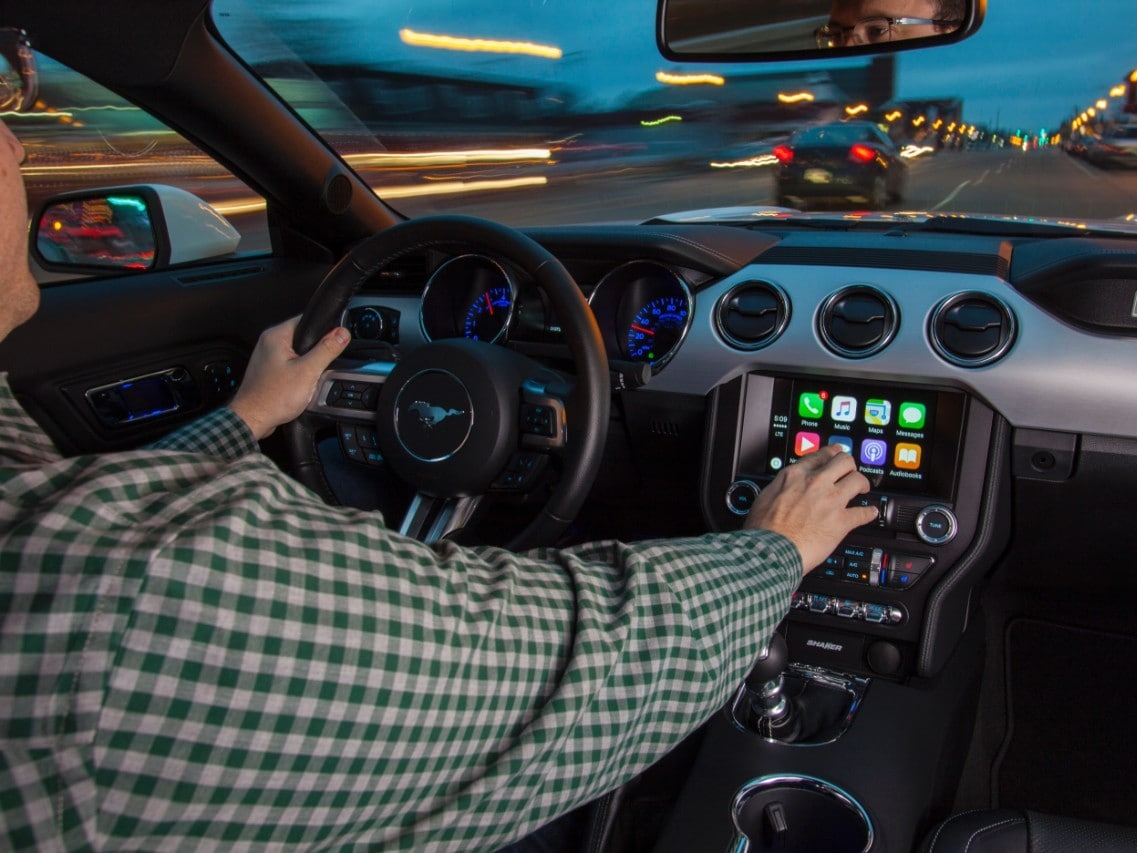 2017 Fords Will Have CarPlay and Android Auto
Finally, one automaker is putting an end to the compatibility battle and accommodating both Apple and Google users. Last year, Ford announced that every vehicle in its 2017 lineup would offer Apple CarPlay and Android Auto. These two smartphone systems are designed to sync smartphones and in-vehicle display screens, using the devices' technology for navigation, communication, and entertainment purposes. They're not available in all vehicles, but this is the first time they'll be available in the same vehicles.
How Ford's Sync3 Works with Apple CarPlay
Do you have an iPhone, or an interest in switching once your Android plan is up? You're in luck, because Apple is known for the seamless way their software synchronizes across different devices. Now, thanks to Apple CarPlay, your vehicle can actually become one of those devices. Ford actually accommodates CarPlay through its own communication and infotainment system, Sync3, but you'll notice Apple-specific maps and apps on your central display screen. For the first time, your iPhone can team up with your Intelligent Four Wheel Drive/4WD, providing traction and a safe soundtrack for your next adventure in a 2017 Ford Explorer. Or if snow and mud aren't your thing, use CarPlay and Sync3 to elevate the luxury in your new or pre-owned Ford Taurus. 
How Sync3 Accommodates Android Auto
This year, Ford's new cars, trucks, and SUVs will also accommodate Android Auto. This is a great sign for Google's in-car technology, which is growing in popularity as it continues to get more intuitive (and as Android smartphones get faster and easier to use).  Right now, Android Auto is capable of syncing with sensors and input hardware to access display screens, steering-wheel mounted buttons, speakers, microphones, compasses, antennas, GPS antennas, and other important vehicle features. Your next adventure could be safer and more fun thanks to Google's sensitive system, which has never looked like a stronger competitor for Apple. 
At Rye Subaru, we're proud to offer a variety of pre-owned Ford vehicles in our extensive lineup. We're also looking forward to the future of in-vehicle technology, and updating our inventory of new vehicles to include new Subaru technology. According to Google and Subaru, Android Auto is coming to Subaru vehicles soon too. STARLINK is already an innovative multimedia system, but its apps and navigation content will soon sync with Android devices to offer even more options for drivers. Stop by our dealership to learn more about our infotainment and navigation options for tech-savvy drivers. Whether you use Siri, Cortana, or Alexa to get here, we'll find you a vehicle that accommodates your device.