Are you in the market for a 4WD SUV? If you're considering a new or pre-owned Ford SUV, here's some good news to consider: the Ford Escape just got the highest possible safety rating for the second year in a row. The National Highway Traffic Safety Administration (NHTSA), our national authority on vehicular safety, has awarded another five-star safety rating to the 2017 Ford Escape.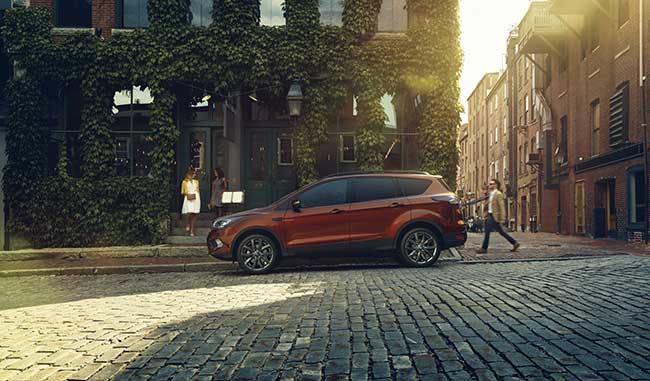 As you plan your next escape, learn why Ford's getting so good at the safety game… and which features to look for in your next rugged vehicle.
Five Stars for Front and Side Crash Tests
The five-star rating continues a tradition for the Ford Escape, which continues to stand out in two particular safety categories. Last year's model got top honors from the NHTSA too, and both earned their five-star ratings for the same two categories: front and side crash tests. Both the 2016 and 2017 Ford Escape also earned four stars for rollover crash tests, but we're most interested in the features that delivered superior .
Safety Features and Powertrains that Minimize Crash Injuries
The NHTSA tested both the front-wheel-drive and 4WD version of the 2017 Ford Escape. Each powertrain scored the same rating, so it's safe to say: the Ford Escape is good at minimizing or preventing injury and damage during front and side crashes. But what makes this vehicle a winner in crash tests? We think it might have something to do with the Ford Escape's antilock disc brakes, side airbags and curtain airbags in the front seat, knee airbag for drivers, and powertrain with traction and stability control. But computer technology also plays a big role.
Camera and Sensors that Prevent Crashes
Once upon a time, high crash test safety ratings meant that automakers were good at minimizing injuries. Today, it's impossible to earn a five-star rating without features that prevent crashes altogether. Cameras, sensors, and intuitive computer software are making modern vehicles even safer, and the 2017 Ford Escape is no exception. Potentially life-saving technology includes optional blind spot warnings, forward collision alerts, lane departure warnings and intervention, and cross-traffic alerts. The 2017 Ford Escape also comes with a standard rearview camera and blind-spot mirror.
We're proud to have a huge lineup of award-winning vehicles here at Rye Subaru, from safe and reliable Subarus to pre-owned Ford Escapes and other Ford vehicles. If safety is a priority for you and your family, know that it's our top priority too! We'll answer all your questions about safety features and ratings, and we look forward to helping you find a vehicle that gives you peace of mind. Visit our dealership today to test drive a car, truck, or SUV with high safety ratings from the NHTSA.