Preproduction computer-generated image shown throughout. Starting spring 2022.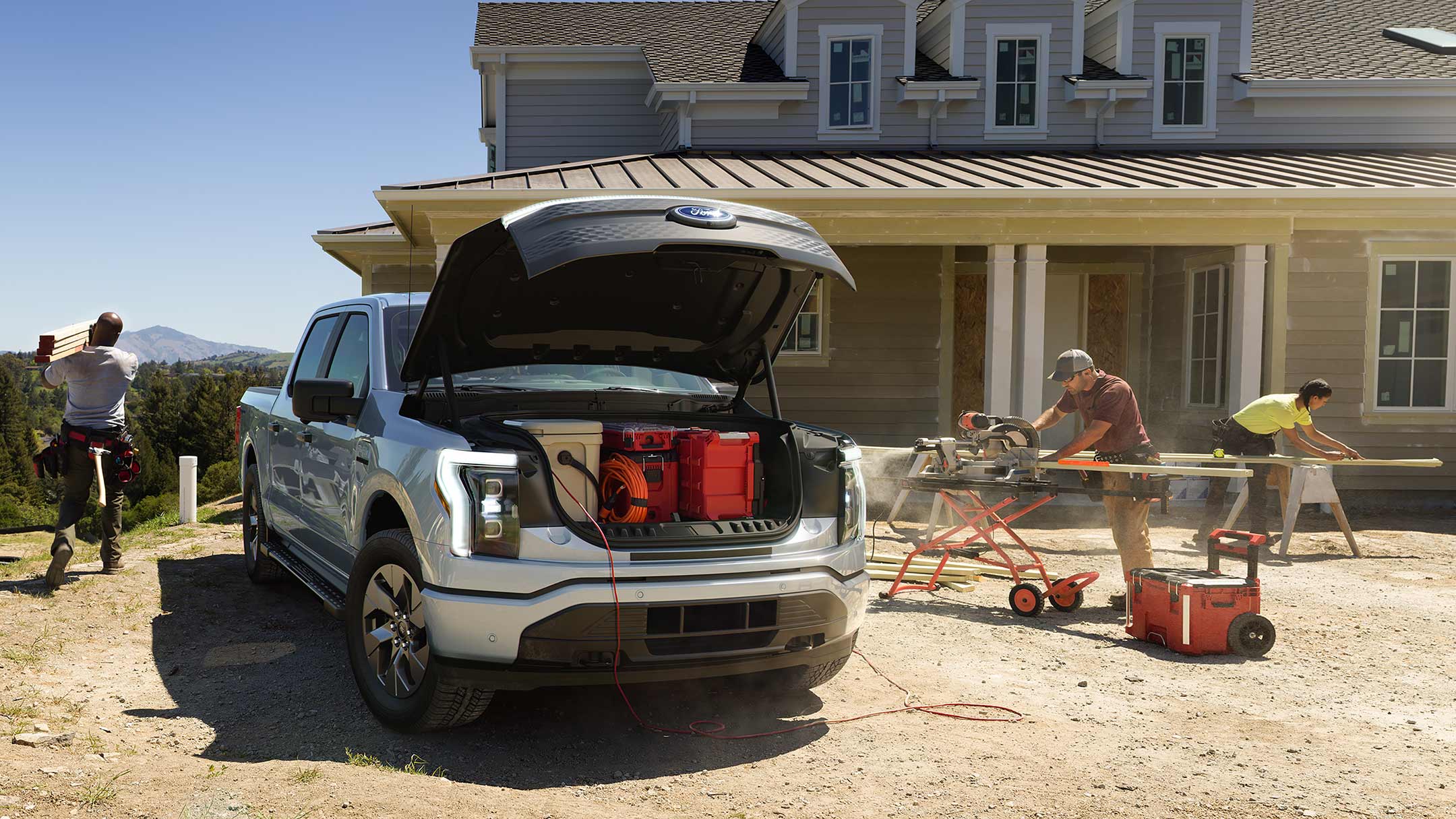 Online Reservation FAQs
What is an online reservation?
An online reservation through Rye Ford allows you to configure your new F-150 Lightning without worry about shopping around or not finding what you want. You also have a refundable reservation deposit. However, it is not an actual order and does not guarantee delivery.
How do I complete my reservation?
Through Ford's website, you can select reserve now. It will walk you through the process of creating a Ford account, your preferred dealer, and your credit details. Shortly after, you will receive a confirmation receipt.
What is a Ford account?
A Ford account allows you to save time and hassle signing into the Ford website. It saves and manages your reservation information for the 2022 Ford F-150 Lightning.
Can I select any dealer to reserve?
Only registered and licensed Ford dealers have online reservations available. Fortunately for you, Rye Ford is eligible and activated for your F-150 Lightning reservation.
Can I make changes to my reservation at a later date?
Yes! You will be able to make any changes to complete your vehicle selection at the time you place your order when the truck is released.
Can I update my dealer selection for my reservation?
You may have to reach out to Ford Customer Support at (800) 334-4375, hours of operation are M-F 8AM - 8PM EST, for assistance in updating your dealer selection to change it to Rye Ford. There will be no impact to your reservation ID, vehicle details, or associated timestamp.
Is my $100 reservation fee refundable?
Yes. The reservation fee is fully refunded upon your cancelation. Please allow up to 10 days for your deposit to be credited back to your original form of payment.
Does Ford share my reservation information with Rye Ford?
Ford automatically shares your reservation information with us at the time you submit it. This allows us to see your configuration, preferences, and more. Please see Ford's privacy policy at ford.com/help/privacy for additional information. 
Can I cancel my reservation?
Yes. You can cancel your reservation at any time to receive a full refund. You can complete this through Ford's website by logging in with your Ford account. If you cannot process the cancellation or are having trouble, feel free to contact Ford Customer Service. After a cancellation, please allow up to 10 business days for the reservation deposit to be credited to your account.
If you progressed from your reservation to an order with us, you will need to contact our team to process your cancellation.
When can I update my reservation into an order?
Ordering for the 2022 Ford F-150 Lightning will begin in fall 2021. You will receive a notification when it opens, allowing you to finalize and confirm your reservation on your agreed-upon pricing with us. A reservation puts you at the head of the line when these trucks arrive. Since the F-150 Lightning is one of the most anticipated trucks of the decade, we highly recommend reserving yours ahead of time.
Why do I have to reserve through Ford?
By reserving your F-150 Lightning through Ford's website, all information is placed on your behalf by us and submitted to Ford for accurate tracking and allowing you to hold your place for your truck.
Am I buying this vehicle directly through Ford?
No. The reservation process will ask you to select a preferred dealer - Rye Ford. The purchase agreement will be between you and our team.
When will I be able to take delivery of my vehicle?
Orders will begin in Fall 2021. Production and deliveries begin in Spring 2022. Your delivery time may vary based on many factors, such as configuration, color, residency, and demand in our area. Once your vehicle is scheduled, 
we will provide you with additional information.